WWE Lose $350 Million, Is Vince losing his Touch?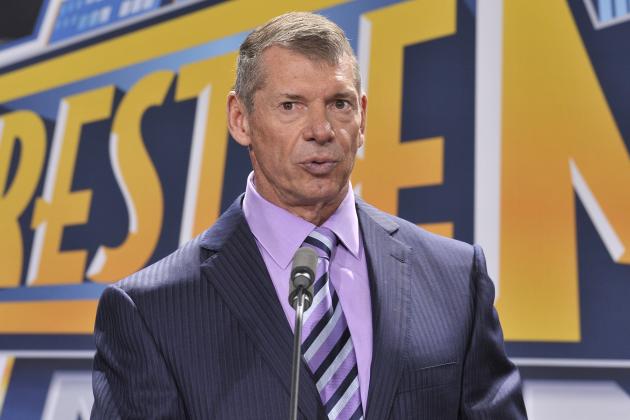 This blog is inspired by Pro Wrestling Report and their conversation on Pro Wrestling Report Primetime regarding WWE business please see video below.
As always all views expressed here are my own I'm not a "wrestling expert" and I don't proclaim to be one I am a wrestling fan with an opinion and my opinion is expressed below please read and enjoy Thanks :) @jon422002
Business Touch
Over the last week Vince McMahon lost over $350 million dollars due to investors in WWE (as WWE is a public traded company) losing confidence in McMahon following release of WWE Network subscribers numbers which reportedly are well below what was promised to investors. Also add in a new announcement of a TV for rights for WWE programming in USA being considerably less what WWE Promised investors also.WWE signed a Deal with NBCU for a 25% rise in TV rights, however this was not enough to please investors and WWE share price plummeted from $20 a share to $11.
WWE Need to be able to increase WWE Network subscribers, the way to do this is to get the WWE Network out to the rest of the world. WWE Network was released in USA in Feb 2014 however UK fans like myself and fans all across the world have not been able to access the WWE network yet. The sooner WWE release the Network to fans across the world the sooner they can make up some if not all of the losses they have around WWE Network subscribers and start to make that part of that process possible.
WWE specifically Triple H stated in the interview below that Hulk Hogan would be coming to the UK on Smackdown from UK on 23rd May and that Hulk Would have an "announcement" regarding the WWE Network, it was expected that WWE were going to announce when the network was coming to WWE however Hulk Hogan appeared talked about the WWE Network but did not give any date to UK fans, so at this time of writing we are still aware of when WWE Network will debut in the UK.
I also saw a great video from Chair Shot Reality Justin Labar reagarding when WWE Network could be coming to UK and Canada Justin states that WWE could be launching WWE Network around Summerslam 2014, Justin CSR video can be viewed at the link below
In Regards to WWE TV deal they in my view have secured a great deal still with NBCU and getting $150 million for programming isn't a bad deal by WWE at all, apparently this is a 25% rise from the last deal but this is not as much as was promised. Vince McMahon stated in a conference call that WWE Network launch did effect the NBCU deal and could of had an adverse effect,
Creative Touch
WWE has had a challenging year so far in terms of creative and what WWE have been able to do in regards to making the product engaging and exciting for the fans. WWE did a great job at Wrestlemania 30 telling the story of Daniel Bryan through the evening to go and win the WWE World Heavyweight Championship. Unfortunately since then Daniel Bryan got married and was off from Raw, then the following week sadly this father passed away then following this Daniel Bryan had to have neck surgery and could be out for 2-3 months and could get stripped of the WWE world heavyweight championship. Away from Bryan just after Wrestlemania Ultimate Warrior very sadly passed away also and before that CM Punk left the company, AJ Lee is currently having some time off and WWE find themselves in a position with only a few established main event stars namely John Cena, Triple H, Randy Orton and Batista.
Cena vs Wyatt, Shield vs Evolution have been great and I have enjoyed those programmes however WWE World Heavyweight Championship has got lost in the shuffle since Wrestlemania and has lost most of its importance.
I think that WWE need to put the title on Triple H and here is the reason why.
Triple H is a great catalyst for a feud and can have a great match with anybody, not only that his years of experience and building a program and making it feel important are invaluable and at this time WWE need Triple H as the man, then Daniel Bryan when he returns can continue his fight (and in the process rebuild his momentum) to again become WWE World Heavyweight Champion. Raw ratings are down at the moment and it is becoming a downwards trend less people are tuning in to WWE Raw week after week currently ratings are going down, WWE needs something to bring them back up and creatively I think that the only answer is CM Punk, however only CM Punk has the answer to that question as to whether he wants to come back. If Bryan is out longer than expected a red hot returning CM Punk Feuding with Triple H, airing his issues with WWE and why he left and wanting to get his hands on the WWE World Heavyweight Championship now that's a feud that could write itself and one man doesnt make a company however i feel at this time a Punk vs Triple would be perfect timing for WWE.
In my view WWE has done a lot of business recently but the most important piece of Business this year is in Chicago, WWE are there soon for WWE payback and if I was Vince McMahon I'd knock on the door on the apartment of CM Punk in Chicago and get a deal done.
Thanks for Reading
Jonathan Orchard
@jon422002